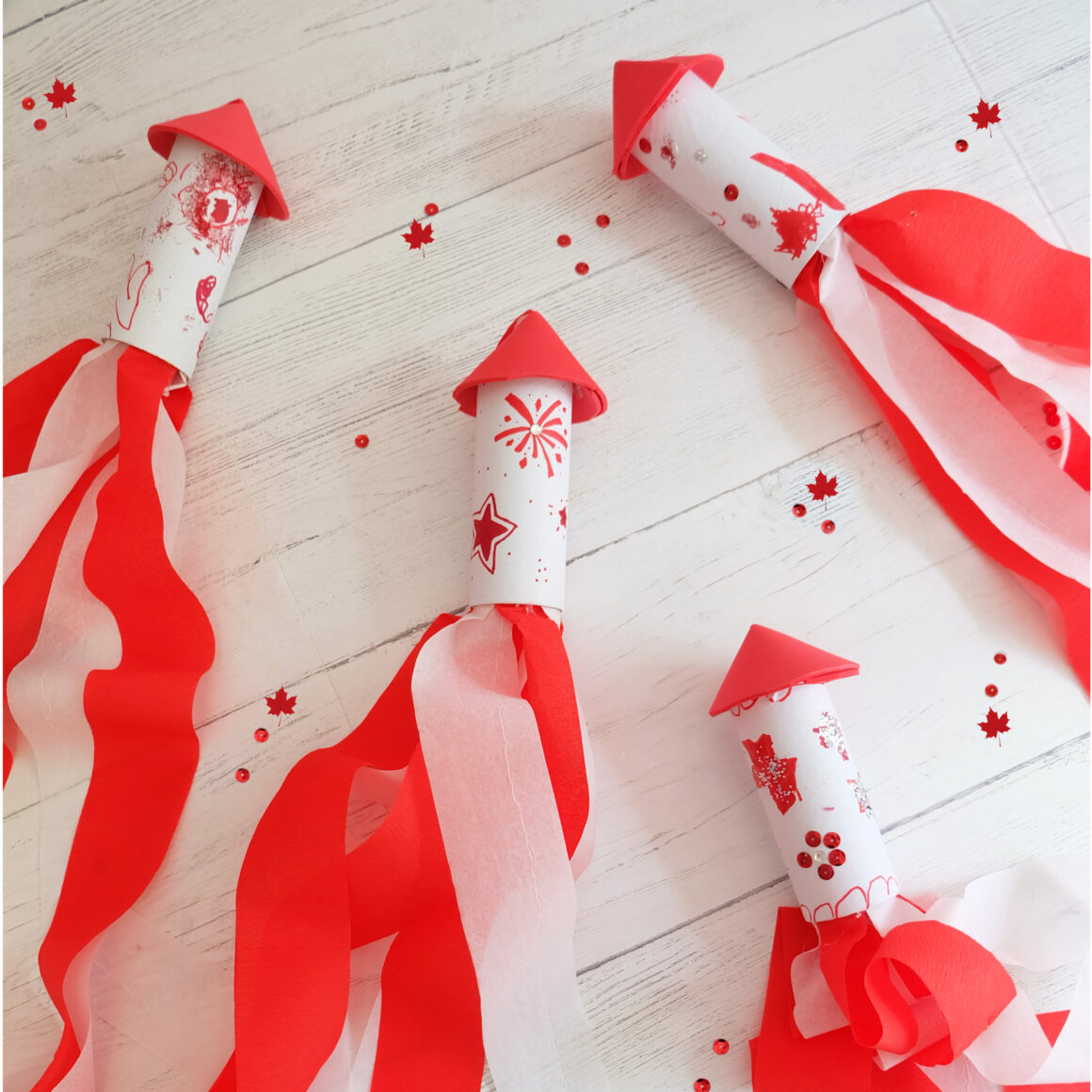 Fun Canada Day Rocket Windsock Kids Craft
This super Fun Canada Day Rocket Windsock Kids Craft is easy to make and twice as fun to play with. Kids of all ages will be able to make this craft, from preschool to school-aged. The youngest crafters may need help glueing the rocket together but will love drawing the fireworks' twirls and swirls. After making these rockets be sure to hang them high and watch them blow in the wind!
This blog post may contain affiliate links. What does that mean? We may get a small commission if you make a purchase using our links, which helps us to keep posting new holiday content every week.
What do you need to make a Windsock Kids Craft?
Red and white paper streamers
Red foam board
White toilet paper rolls
Red markers or paint
Red glitter
Small bowl
Stickers *optional
Scissors
Hot glue gun with glue sticks
How do you make a Fun Rocket Windsock?
Firstly, decorate the toilet paper rolls with paints, markers, stamps and glitter! Set aside to dry, if needed.
While the paper rolls are drying, cut the red foam board into a circle, using a small bowl to trace.
Make a cut to the centre of the circle, then fold the circle onto itself to form a cone, using a hot glue gun, glue the edges together.
Glue the cone onto the top of the paper towel roll.
Cut 3 of each colour, approx. 2′ long pieces of red and white paper streamers
Glue the streamers to the bottom of the paper roll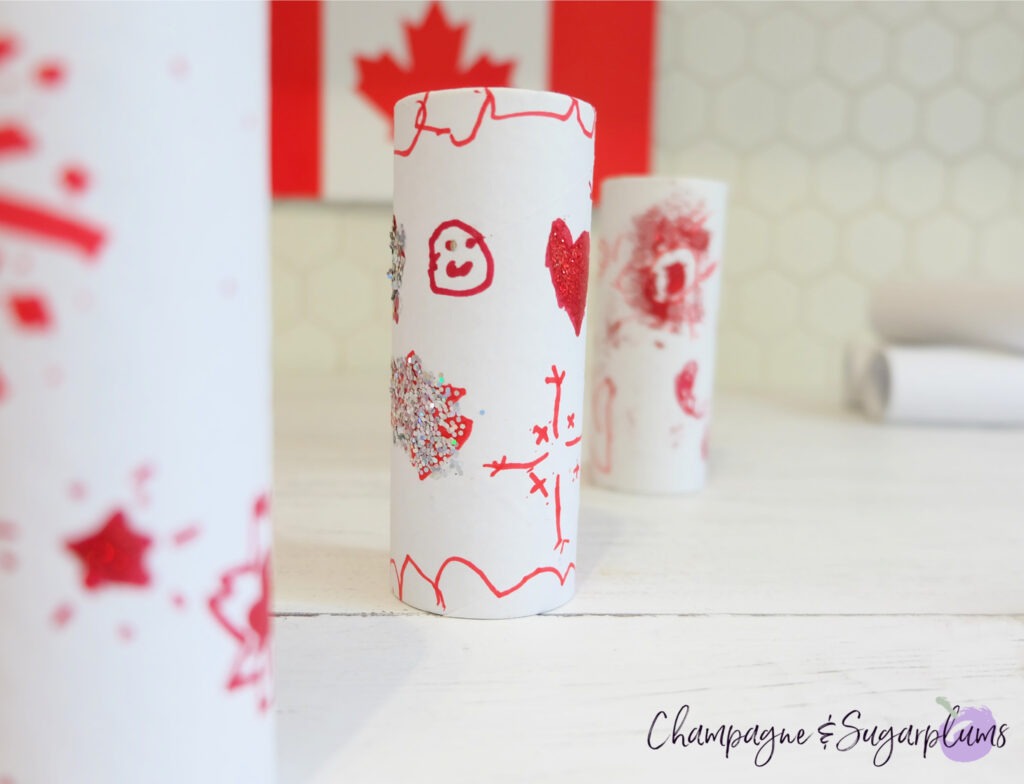 Step by Step – How to make a windsock kids craft
Firstly, decorate the white paper roll with stickers, glitter and designs. Create fireworks or happy faces!
This craft can get messy, which means triple the fun!!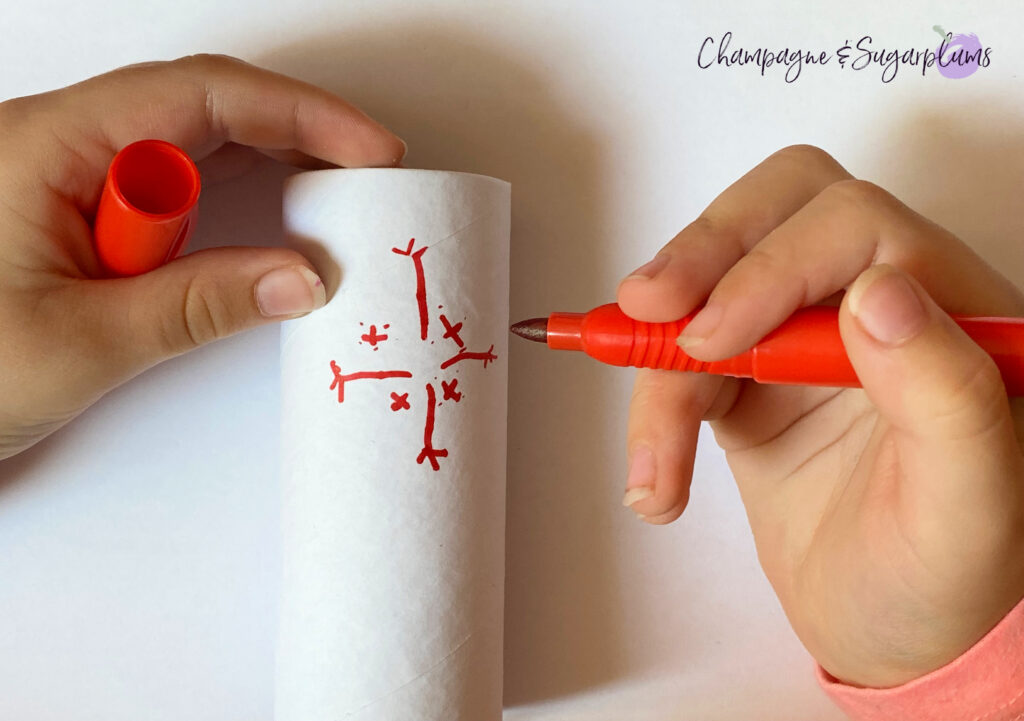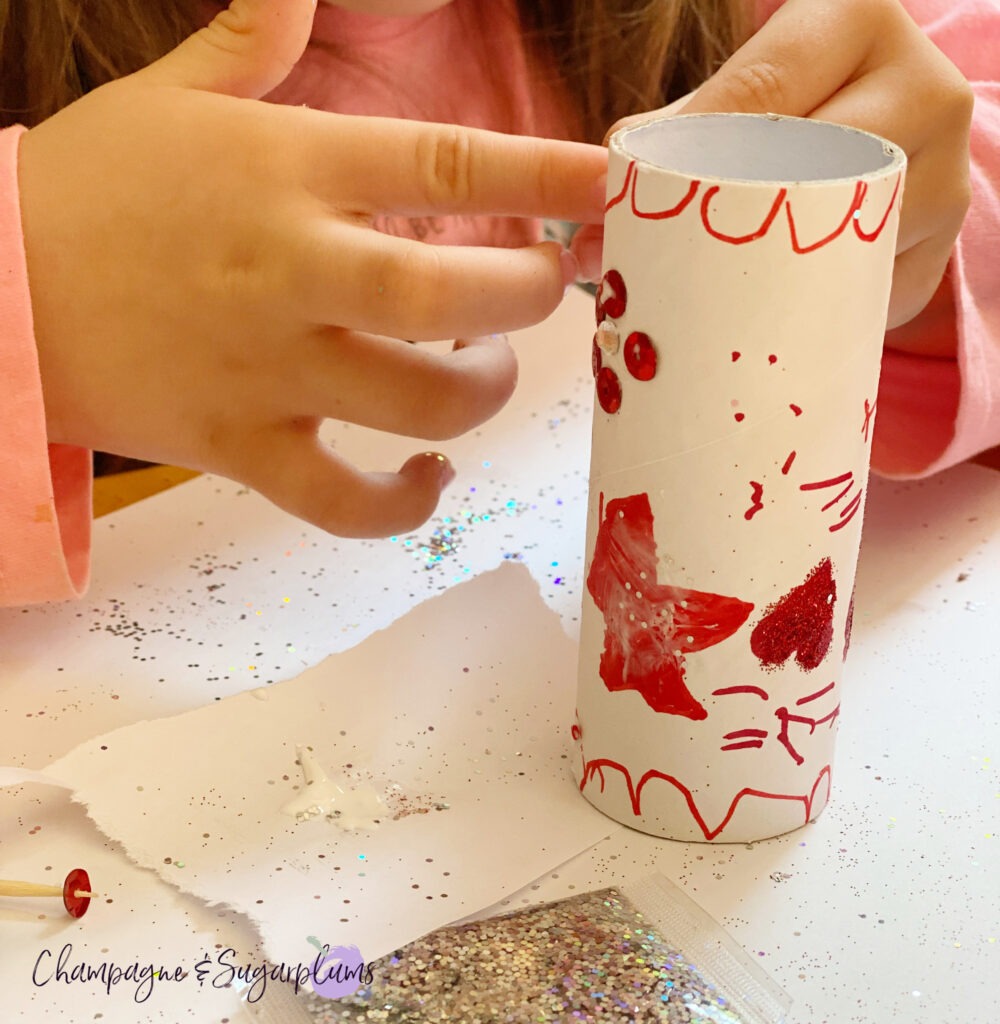 Secondly, create the rocket top. Using the red foam and a small bowl, trace a circle onto the foam. Cut the circle out, then make a single cut to the middle of the circle.
Fold the circle onto itself to form a cone. Glue it together to secure.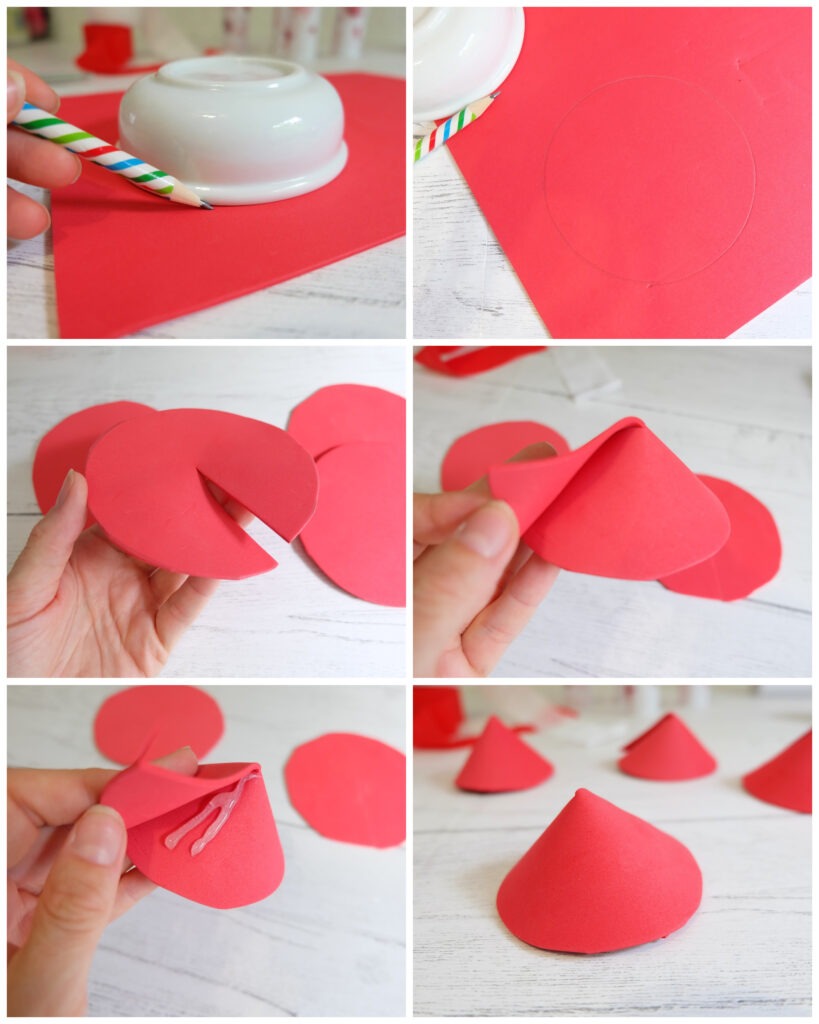 Next, glue the top of the paper roll and attach the cone.
Cut the paper streamer into lengths, about 24 inches each. Three reds and three white per paper tube.
Fold the one end of each length and glue inside of the paper roll, alternating red and white.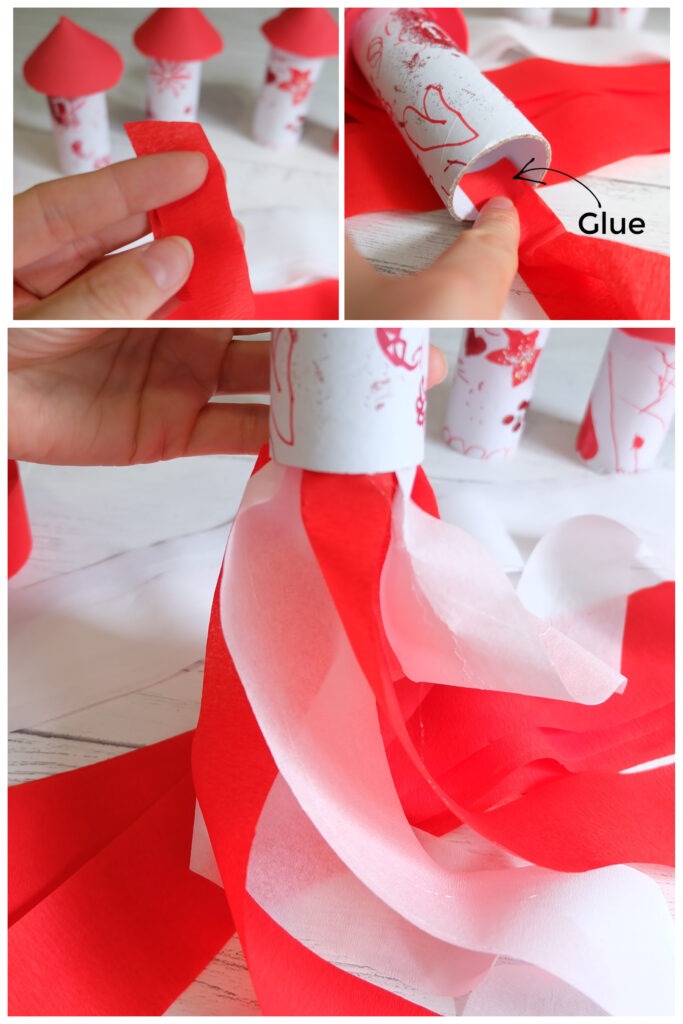 Voila!! Your rocket windsock is finished!! These windsocks are not only fun to create, the fun continues when playing with them. Bring them to your Canada Day celebration for hours of fun.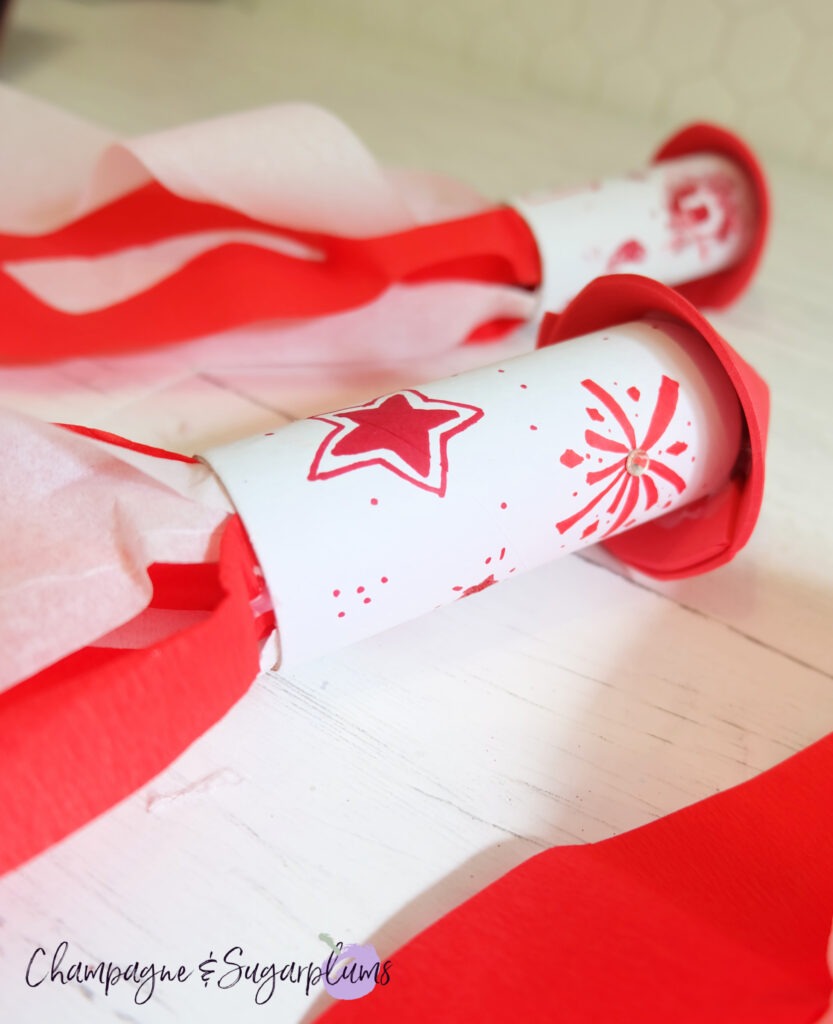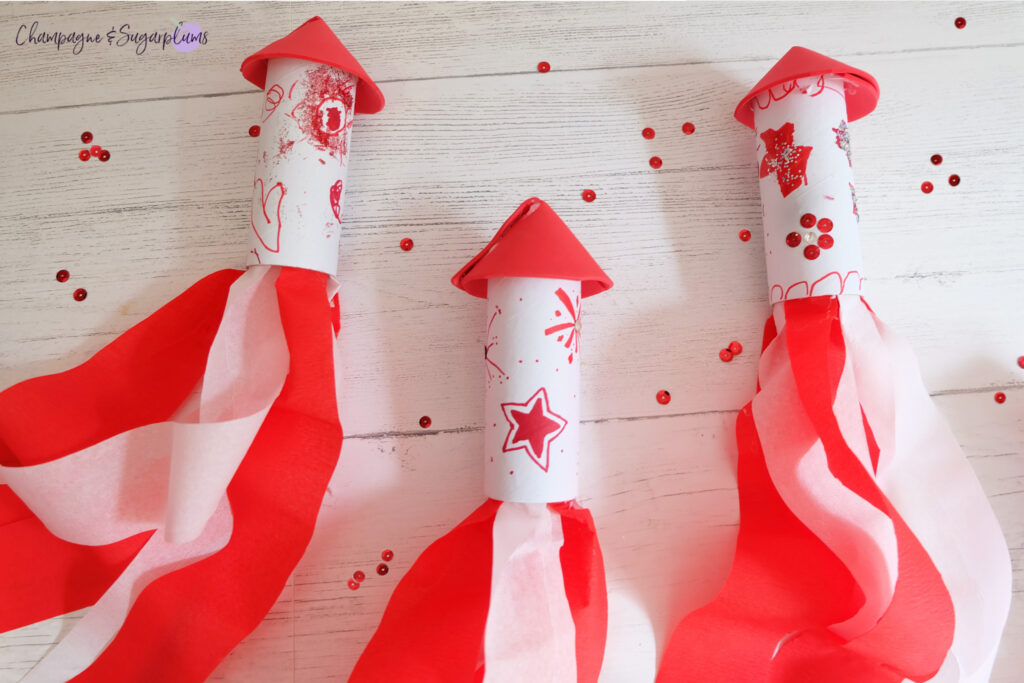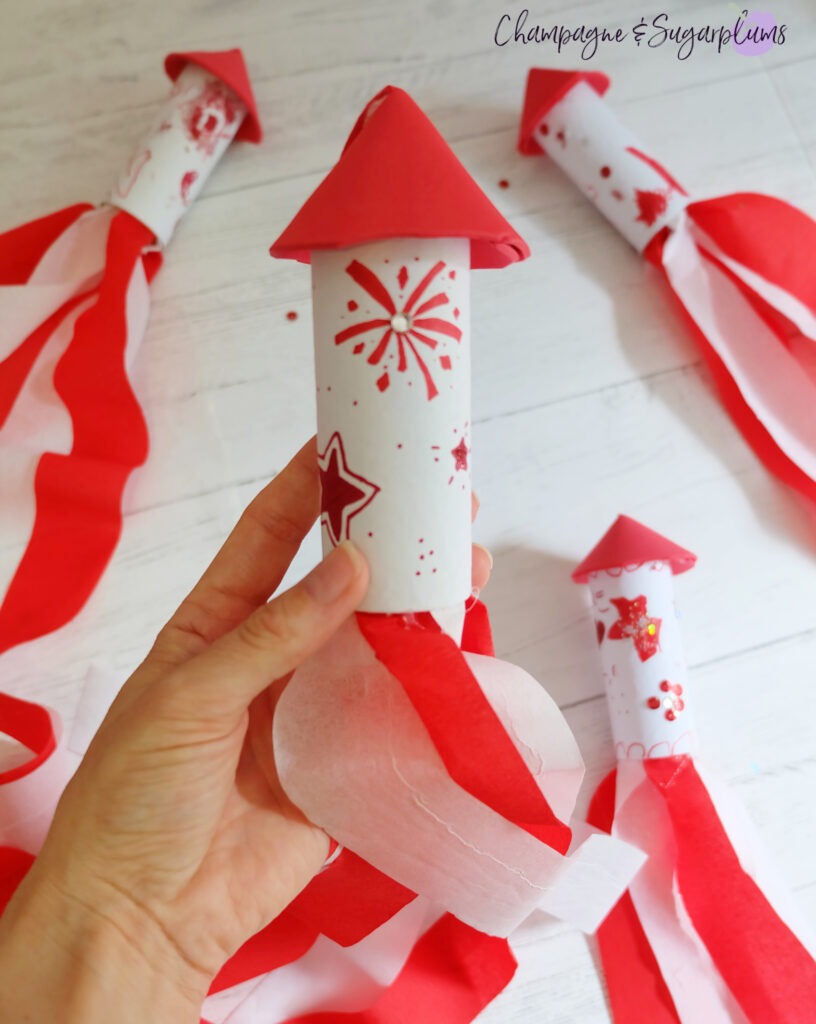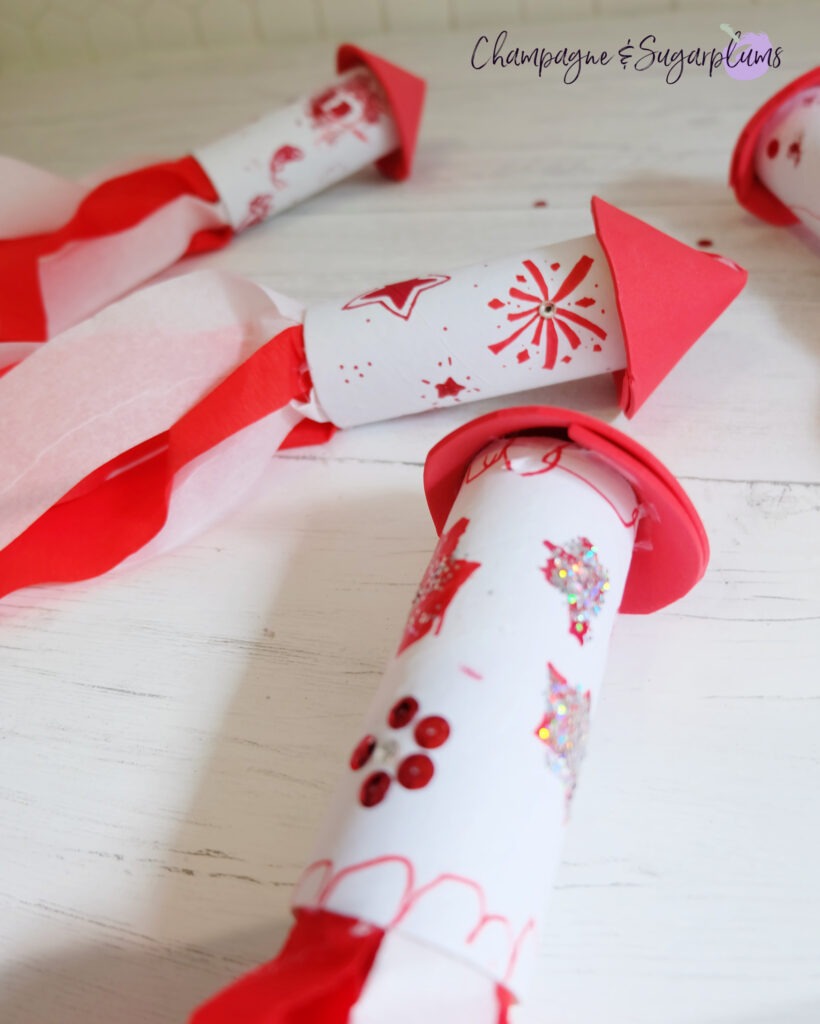 We hope you loved these Fun Canada Day Rocket Windsock Kids Craft as much as we do! If you're looking for more Canada Day fun be sure to check out our Animals of Canada Easy Epoxy Coasters, perfect for the cottage, on the patio or right on your coffee table.