Dancing Bats and Spiders Halloween Kids Craft
A cute n' easy Dancing Bats and Spiders Halloween Kids Craft for all ages! Grab some paint and some wooden rounds to create some little Halloween critters. When the kids are finished painting faces, add some legs for the spiders and some wings for the bats and then hang them from a painted stick to watch them "dance around"!
This blog post may contain affiliate links. What does that mean? We may get a small commission if you make a purchase using our links, which helps us to keep posting new holiday content every week.
All of the materials for this fun Halloween kids craft can be found at your local dollar store, which is always a bonus! If you're wondering what you need to add to your list to make this craft, here's the break down…
What you need for a Dancing Bats and Spiders Halloween Kids Craft
Wooden rounds
Black pipe cleaners
Black felt
Scissors
Paint and brushes
Googly eyes (optional)
Thin, clear jewelry wire
A stick from outside
Hot glue gun with glue

Putting this Spider and Bats craft together is just as easy as 123 – here's how we did it…
Firstly, paint the wooden rounds. We had some little helpers between the ages of three to seven, so this craft is certainly good for all ages. They all had totally different ways of painting the Halloween critters. When the painting is done, set aside to dry completely.
Secondly, add the felt bat wings and pipe cleaner spider legs, adults should help with this step, as a glue gun should be used to attach the legs and wings to the spiders. Each wooden round will need two pipe cleaners, cut into four pieces each. Cut the black felt into the shape of bat wings then hot glue the wings onto the back of the bat rounds.
If anyone wants to add googly eyes, now's the time. Use the hot glue gun to stick them on.
Next, paint a stick – donated from a nearby tree – black and then set it aside to dry.
Finally, attach the Halloween critters to the black branch using the clear jewelry wire or fishing line, tie one end to the stick and hot glue the other to a spider or bat. Attach all of the bats and spiders in a likewise fashion until they are all hanging.
Watch these Halloween critters dance!!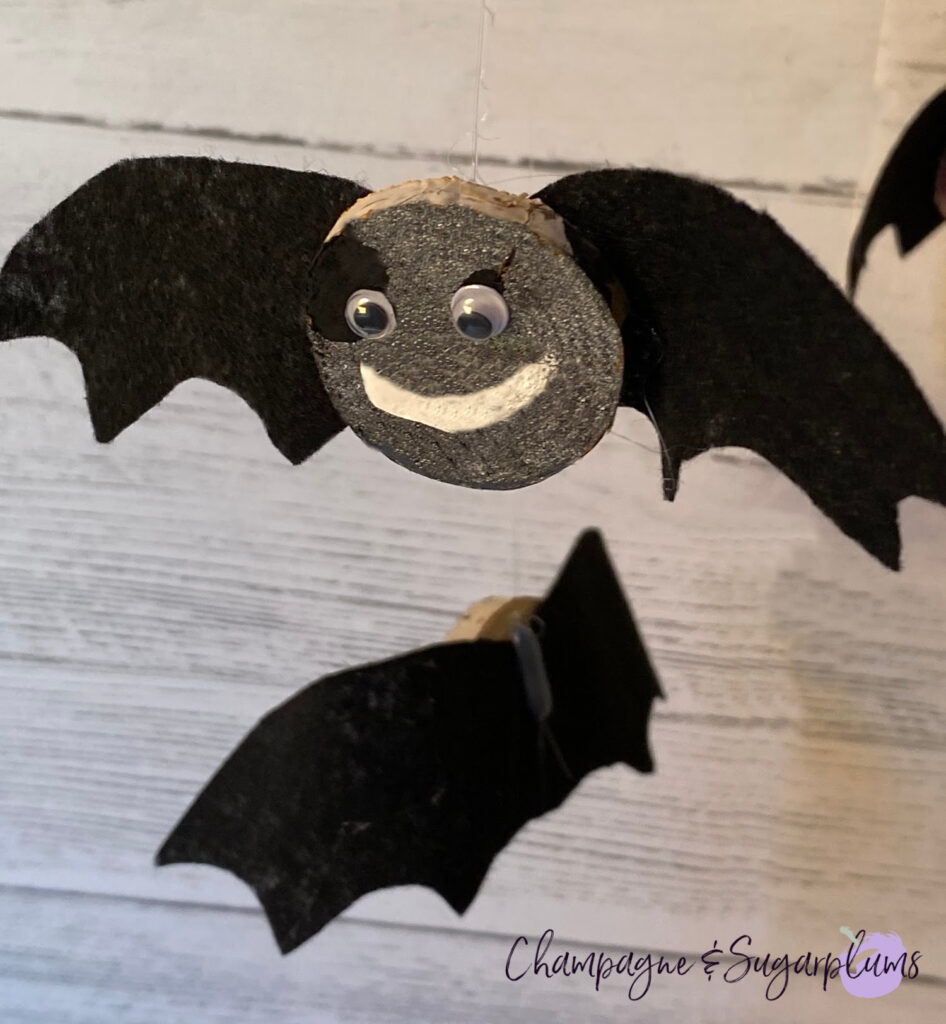 We hope you loved this Dancing Bats and Spiders Halloween Kids Craft! If you're looking for more be sure to check out our Treat Bag Banner, a social distancing idea for handing out candy this year, or if you're staying in…certainly check out our Creepy Quesadillas!