Easy Zucchini Tomato Bake with Parmesan
The delicious blend of flavours in this zucchini tomato bake will have you going back for more! This recipe is super easy to make, just 10min of prep time to chop the veggies. Then layer them in into the baking dish, top drizzle the savoury olive oil and spices blend and finally top with parmesan. Bake and enjoy! This side dish tastes great served with quinoa but it's best when it's served along side a delicious Thanksgiving dinner!
This blog post may contain affiliate links. What does that mean? We may get a small commission if you make a purchase using our links, which helps us to keep posting new holiday content every week.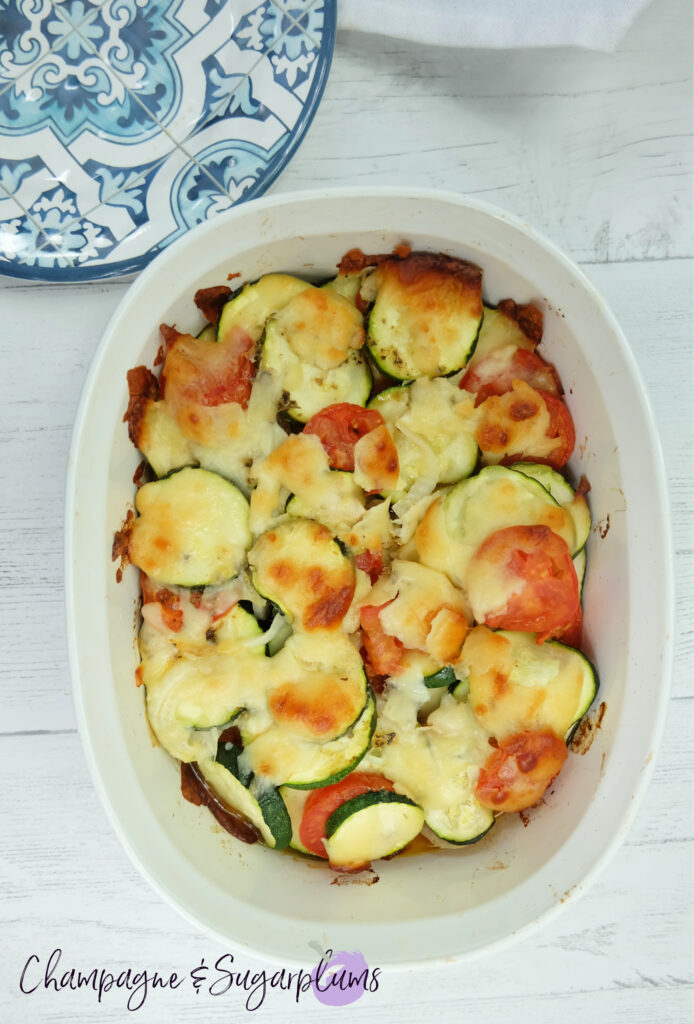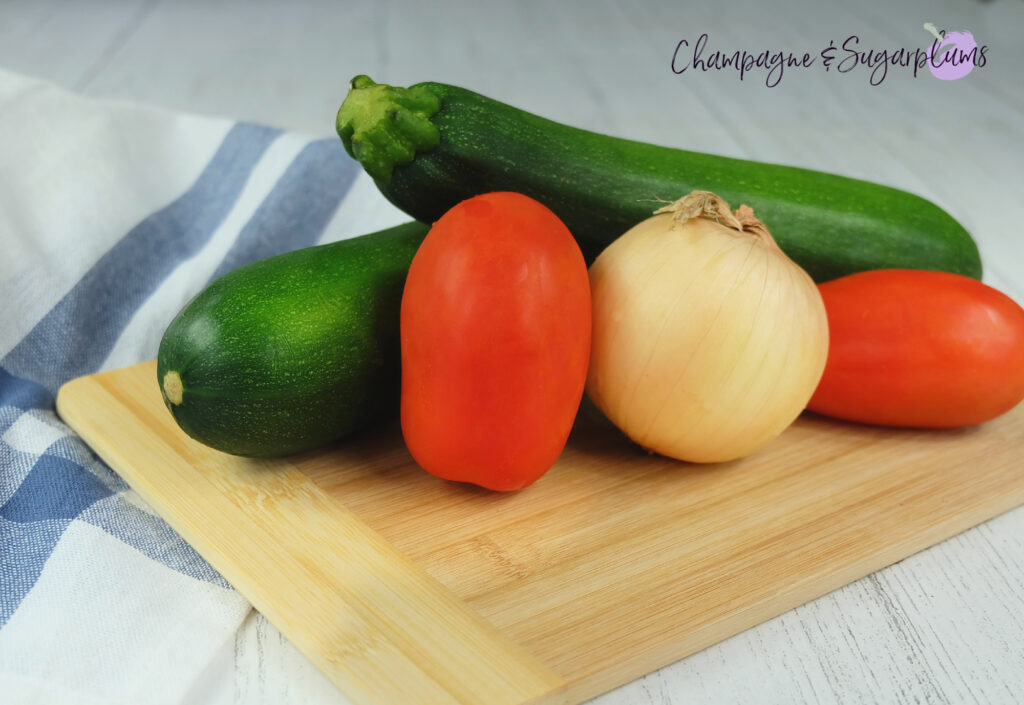 No doubt zucchini's are good for you, they are full of nutrients, high in antioxidants, great for heart health and so much more. It's not hard to see why we try to eat more of it, which is why we see lots of zucchini recipes like zucchini bread, zucchini noodles and roasted zucchini.
This week, we are bringing you a delicious zucchini recipe that the whole family will love. We highly recommend this recipe for your next Thanksgiving feast, it's a side dish that will complement turkey and all the other trimmings. It's very easy and quick to prep, so it won't take that much time with all of the other Thanksgiving dishes that need to be done!
Easy Zucchini Tomato Bake with Parmesan
Zucchini's (2 medium)
Vine tomatoes (about 4)
Small yellow onion
Olive oil
Basil
Garlic powder
Seasoning salt (our favourite!)
Flaked parmesan cheese
Firstly, preheat the oven to 375 degrees. Secondly, thinly slice the zucchini, tomato and yellow onion. Once they're sliced begin to layer them into a baking dish sprayed with cooking spray. Alternate the zucchini and tomato around the dish, adding an onion in occasionally, unless of course you love onion, then feel free to add more! Set aside to mix the oil blend.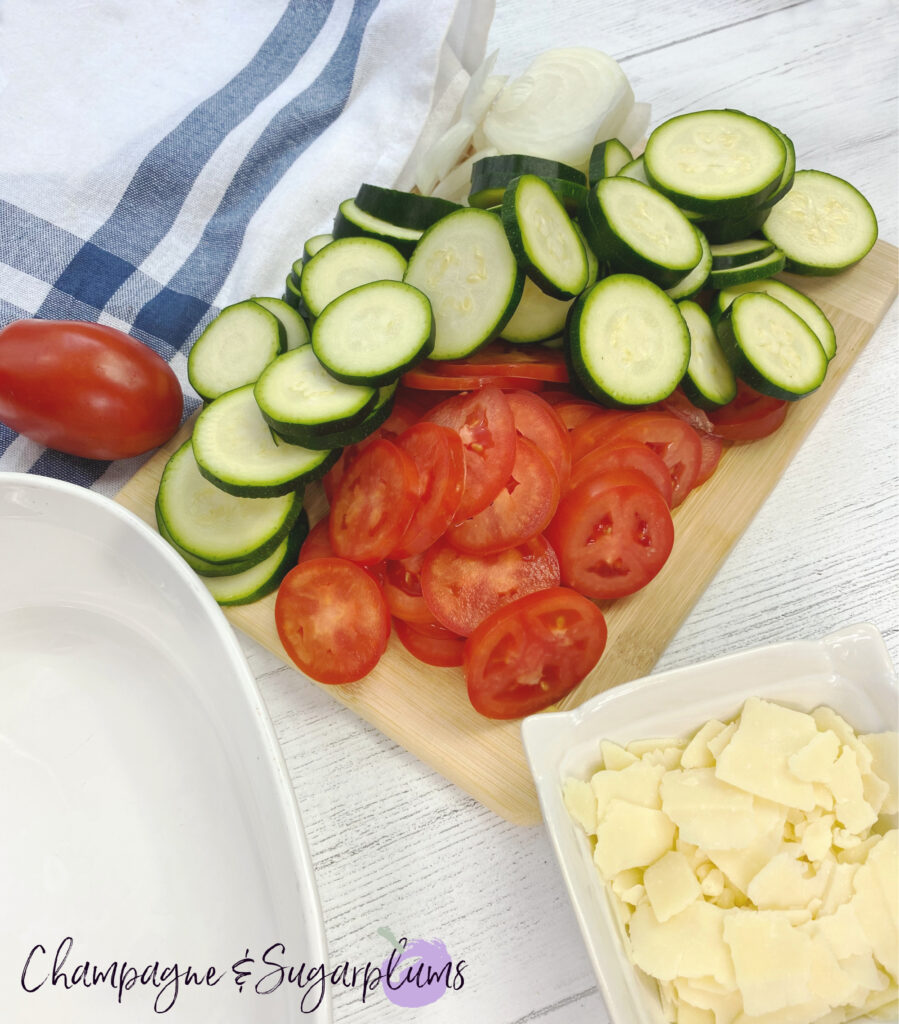 Mix the olive oil, basil, garlic powder and seasoning salt together in a small bowl. Whisk until blended.
Pour the oil blend over the alternated zucchini and tomatoes in the baking dish. Top with flaked parmesan, the best part!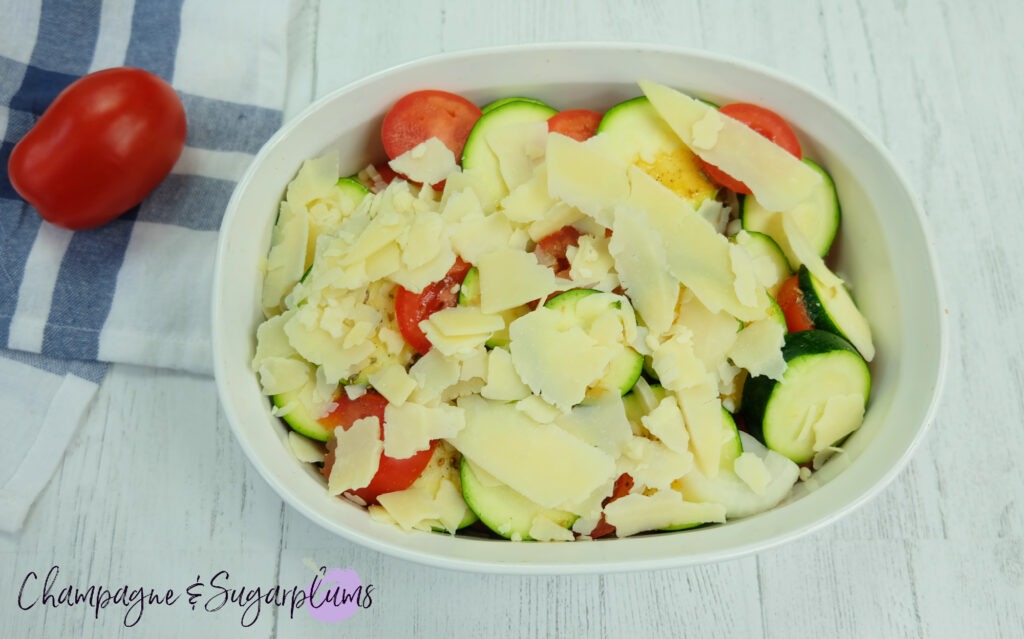 Place it in the preheated oven and bake for about 45min, or until the parmesan is golden. If you prefer your vegetables well done, continue to bake for an additional 10min.
Easy Zucchini Tomato Bake Recipe with Parmesan
Delicious, easy zucchini tomato bake with parmesan recipe, perfect for a Thanksgiving side dish.
Ingredients
2

medium sized zucchini

sliced thin

4

small vine tomatoes

sliced thin

1

small onion

halved and sliced thin

2

tbsp

olive oil

extra virgin

1 1/2

tsp

garlic powder

1

tsp

seasoning salt

1

tsp

basil

1

cup

parmesan cheese

flaked
Instructions
Preheat oven to 375 degrees

Spray an oven safe cooking dish with cooking spray

After slicing the zucchinis, tomatoes and onions, begin to layer them into the cooking dish, alternating the veggie's. Continue until they are all used or the dish is full.

In a small bowl combine the olive oil, garlic powder, seasoning salt, basil and mix with a fork.

Drizzle the olive oil mixture over the zucchini's and tomatoes.

Top with parmesan cheese.

Bake for about 45 min, or until the parmesan cheese is golden and the veggies are soft.
Video
Notes
Serve along side a delicious Thanksgiving turkey dinner!  
Also tastes great with quinoa, mix it together or on the side.
We hope you love this Easy Zucchini Tomato Bake with Parmesan Recipe as much as we do! Looking for a Thanksgiving dessert? Certainly try our Pumpkin Spiced Cupcakes!