DIY Thanksgiving Centrepiece Idea – Mini Pumpkins
We are very excited to show you these cute mini pumpkins – decorated in time for Thanksgiving. These mini pumpkins are easy and super fun to make, place them together to create a beautiful, inexpensive thanksgiving centrepiece. They this creative DIY Thanksgiving Centrepiece Idea – Mini Pumpkins by Champagne and Sugarplums
This blog post may contain affiliate links. What does that mean? We may get a small commission if you make a purchase using our links, which helps us to keep posting new holiday content every week.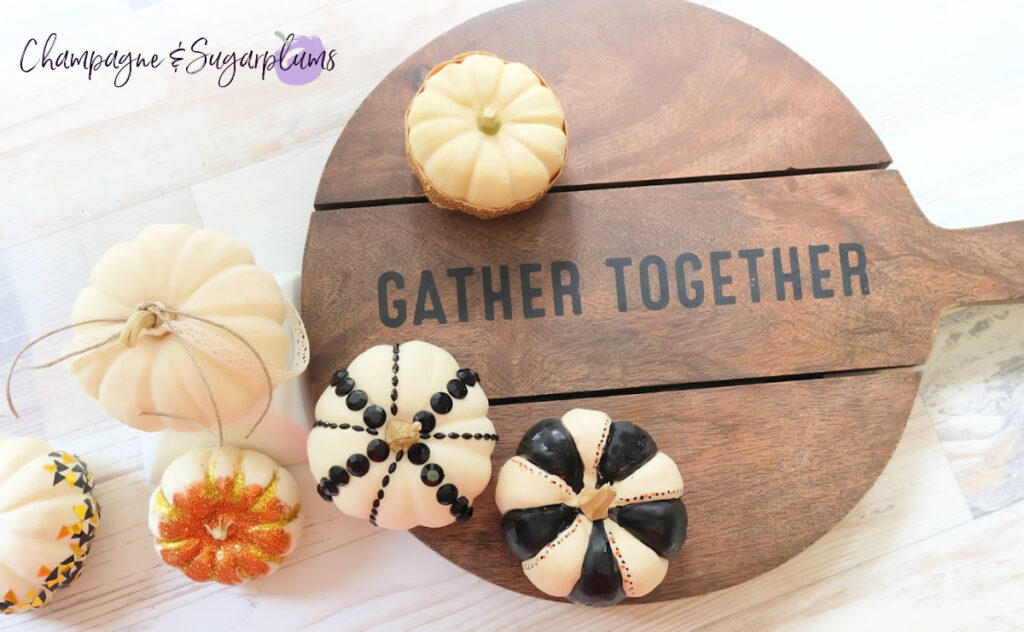 ---
Looking for a women's clothing or fashion subscription box? Click here to discover the largest selection complete with real customer reviews.
---
Mini white pumpkins are a popular fall decor crafting material and it's easy to see why, after all they can be painted, glued and glazed. This DIY Thanksgiving craft was fun and easy. We gathered all of the materials at the dollar store, apart from the real white mini pumpkins, however you can find some false ones at the dollar store too if you prefer.
DIY Thanksgiving Centrepiece Idea – Mini Pumpkins
Paint brush
Black acrylic paint
Painted Mini Pumpkin – Using a paint brush and some black acrylic paint this pumpkin stands out all on it's own! If you have extra pumpkins paint a few more with different patterns like chevrons, lines and polka dots.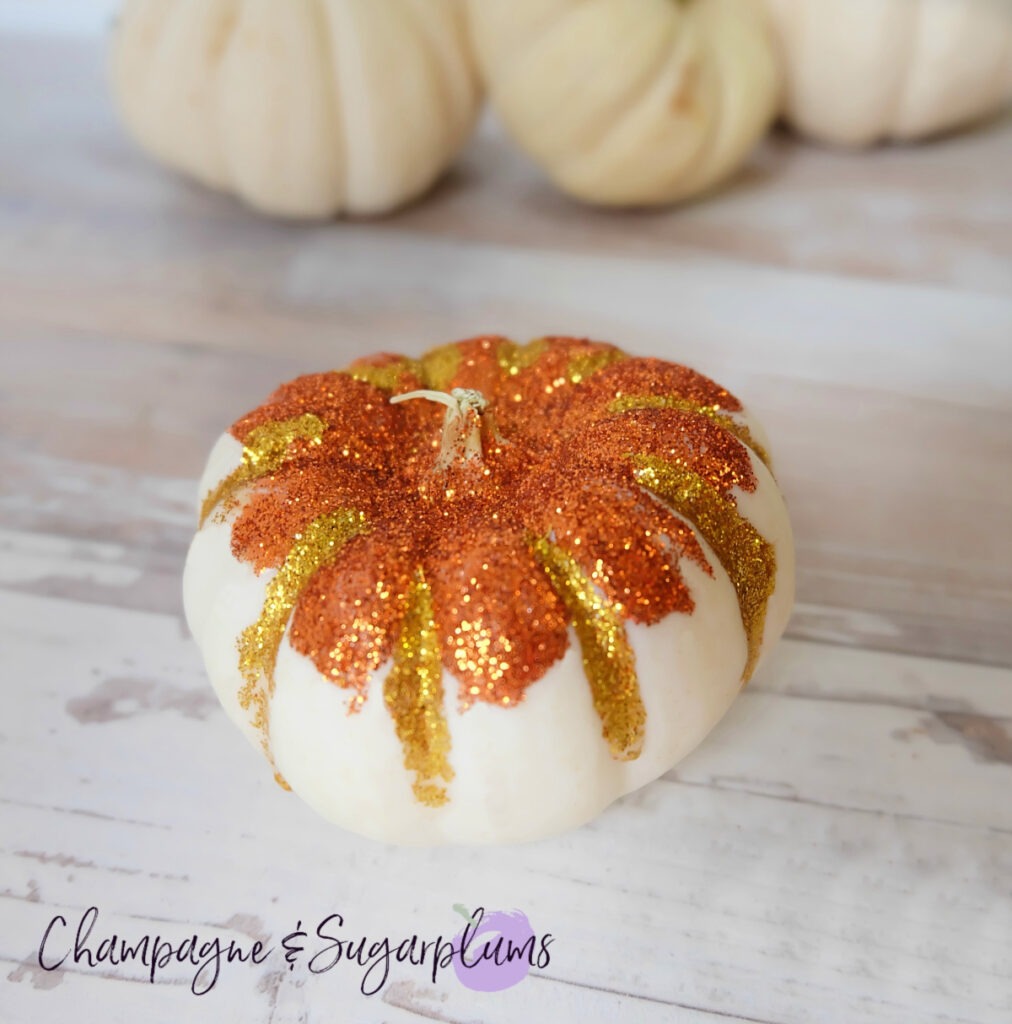 All purpose glue
Paint brush
Gold and orange fine glitter
Glitter – Apply some all purpose glue to the top of the pumpkin, use a paint brush to spread the glue in a specific pattern if wanted. Then add some glitter. Allow the pumpkins to dry completely.
Twine
Neutral colour ribbon
Twine – perhaps the easiest way to decorate a pumpkin is to add some twine or ribbon around the stump handle, simply elegant.
Jewels – We found these jewels at the dollar store and they happen to come pre-lined on a sticky strip. Easy peasy! If you can't find this sticker variety, simply use some all purpose glue to adhere some jewels.
All purpose glue
Origami paper in gold and black (or prepared confetti)
Scissors
Confetti – This one is our favourite! It's very simple to do and looks amazing. It's made with confetti pieces. We made our own by cutting small triangles out of origami paper and it worked perfectly, you can also buy confetti at a party store. All you need to do to get this look is apply some glue to your pumpkin, then dip the pumpkin into the confetti, placing a few individual pieces on the top.
Gather the pumpkins together when finished to create a beautiful fall centrepiece.
Paint Pens – Like painting with acrylic paint but easier! These paint pens allow you create some intricate designs like letters, small polka dots and lines.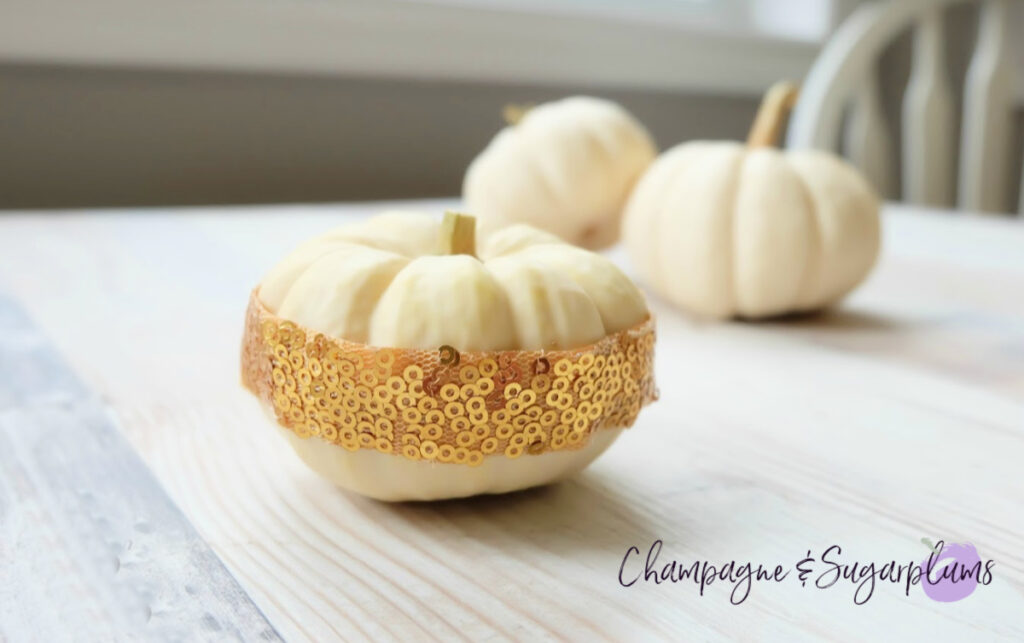 Washi Tape – Another quick decor technique. Add some washi tape to the pumpkin around it's base horizontally or add a few vertically. Cut some of the washi tape into thinner strips to create some different looks, for example, have a thick piece of washi tape with a thinner piece placed above.
Which way will you decorate your mini pumpkin centrepiece?
So what do you think of this DIY Thanksgiving Centrepiece Idea – Mini Pumpkins? If you're looking for a delicious dessert to go with this centrepiece this Thanksgiving, certainly check out our Apple Cinnamon Dessert. Happy Crafting!
*