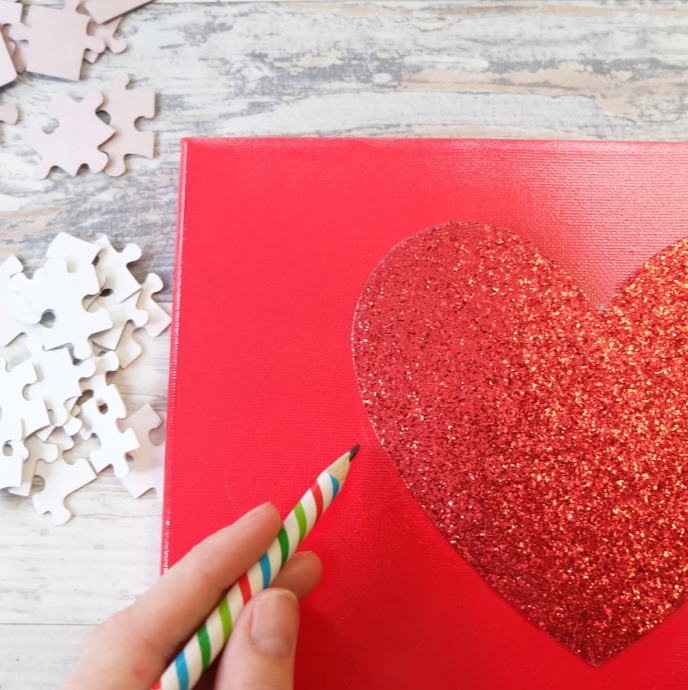 Easy DIY Valentine's Puzzle Heart
Here's a quick and easy DIY Valentine's Puzzle Heart perfect for this Valentine's Day. This craft is great for adults and kids, everyone will love making this craft to keep or give as a thoughtful gift. All you need for this craft is a dollar store canvas and an old puzzle, one of those old ones that are lying around with one or two pieces missing!
This blog post may contain affiliate links. What does that mean? We may get a small commission if you make a purchase using our links, which helps us to keep posting new holiday content every week.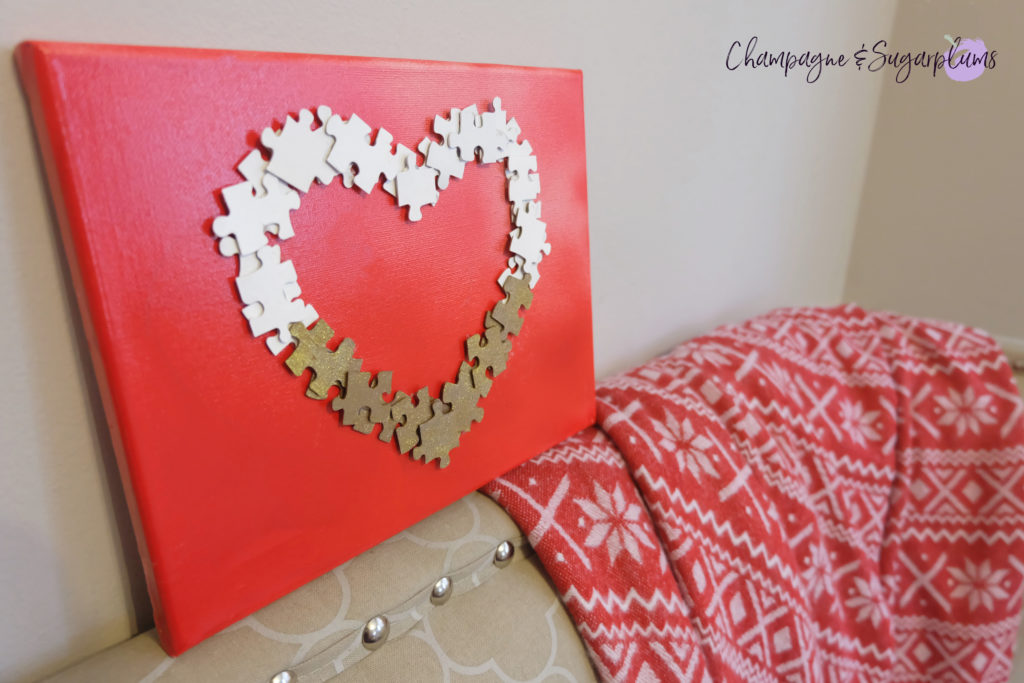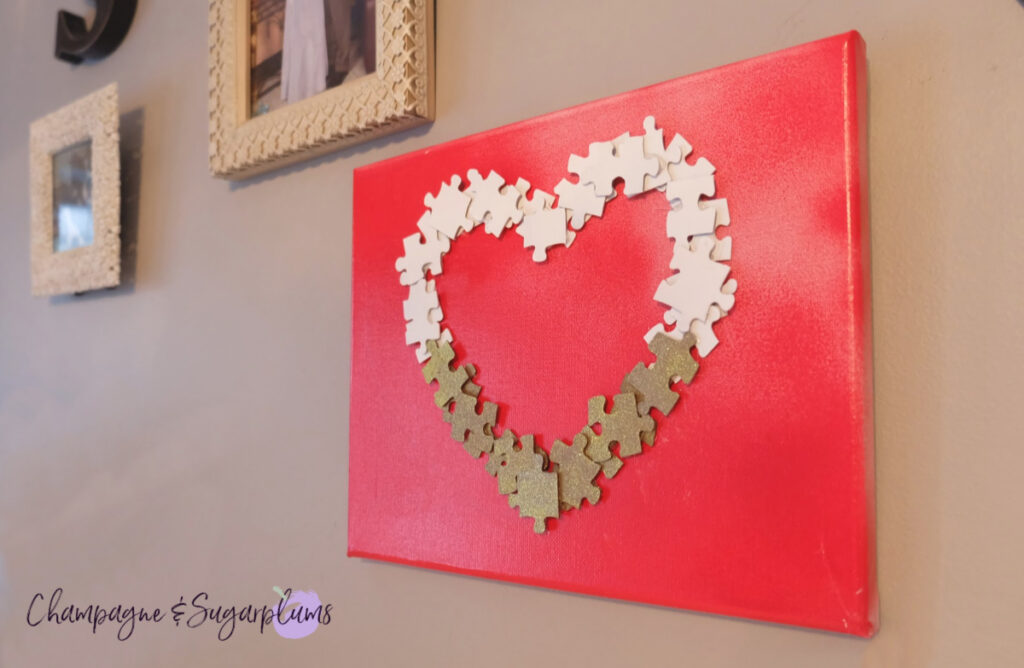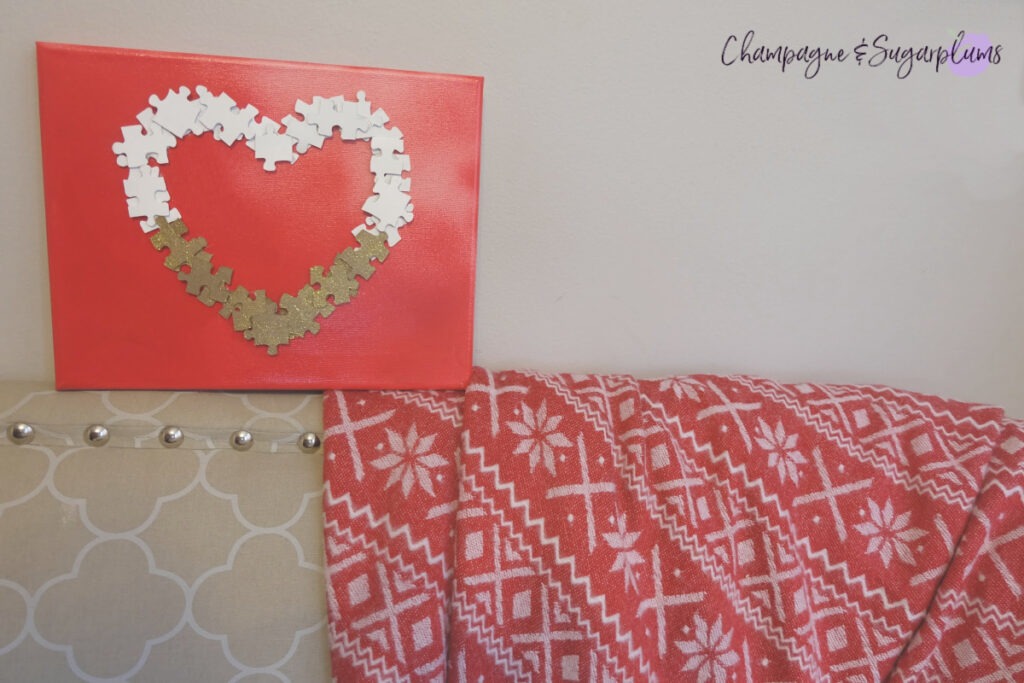 This project is great for the kids too, getting to reuse an old puzzle to make a new craft is always exciting. The part for them will be waiting for the paint to dry, beyond that it's very simple and a lot of fun. You can paint your puzzle pieces any colour you'd like, we prefer sparkles…so that had to be included!
What do you need to make a Valentine's Puzzle Heart?
Puzzle pieces (use an old one!)
Canvas (about 8×10)
Spray paint (we used red, white and gold)
Hot glue gun
Heart stencil or paper heart
Pencil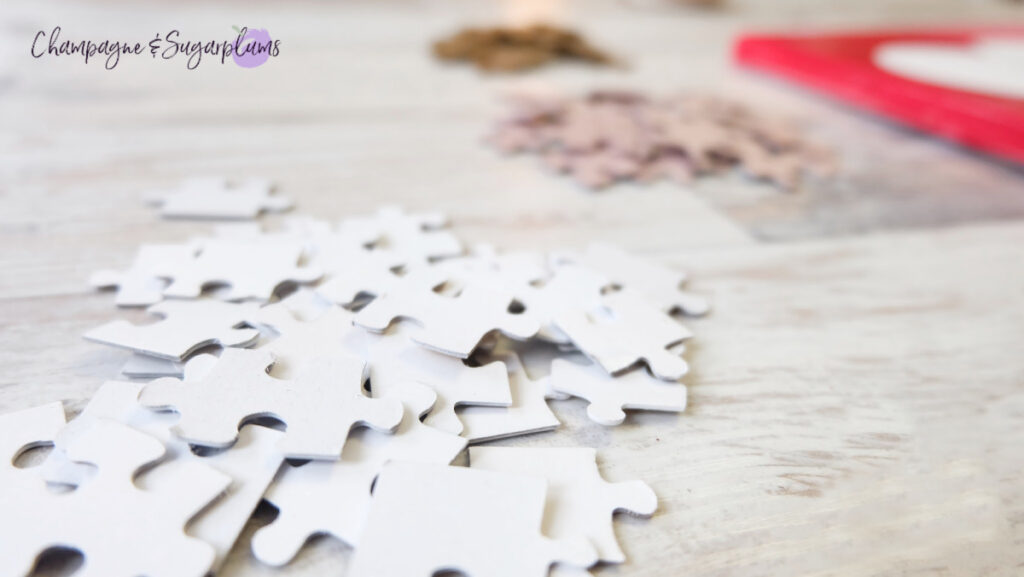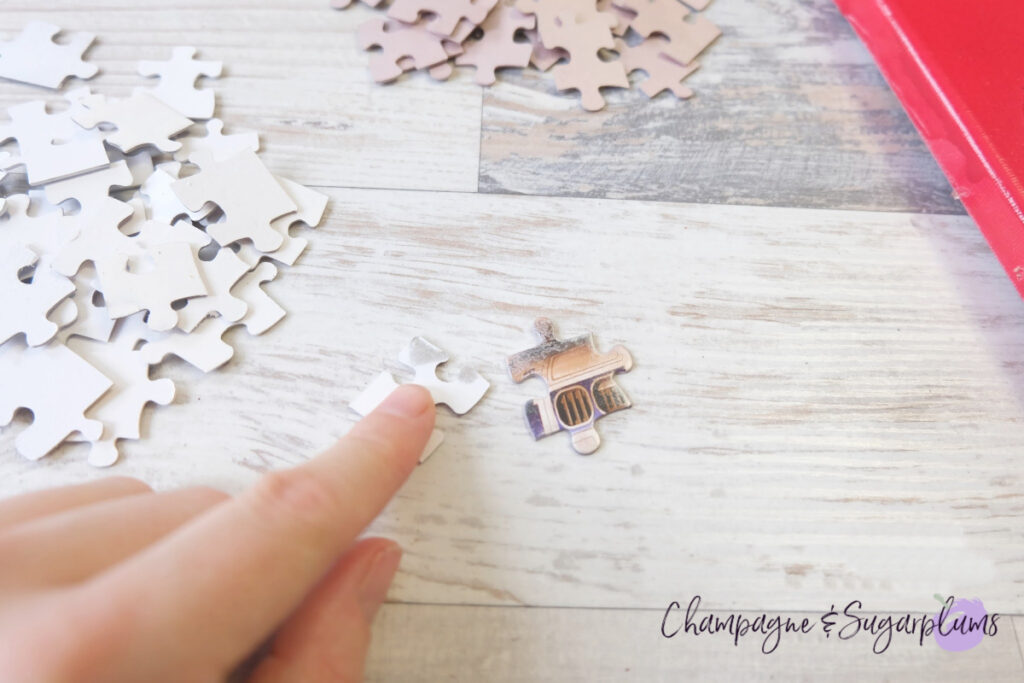 To create this master-puzzle-piece, start by spraying your pieces with the spray paint. Be sure to place your pieces picture side down, the spray paint will adhere better the cardboard side. Lay them all flat, one or two coats is all that's needed. Spray according to the instructions on the can and be sure the paint has dried completely between coats.
While the puzzle pieces are drying, spray your canvas. You can have a white background of course, but a pop of colour is always nice. Allow it to dry completely.
How to Make an Easy DIY Valentine's Puzzle Heart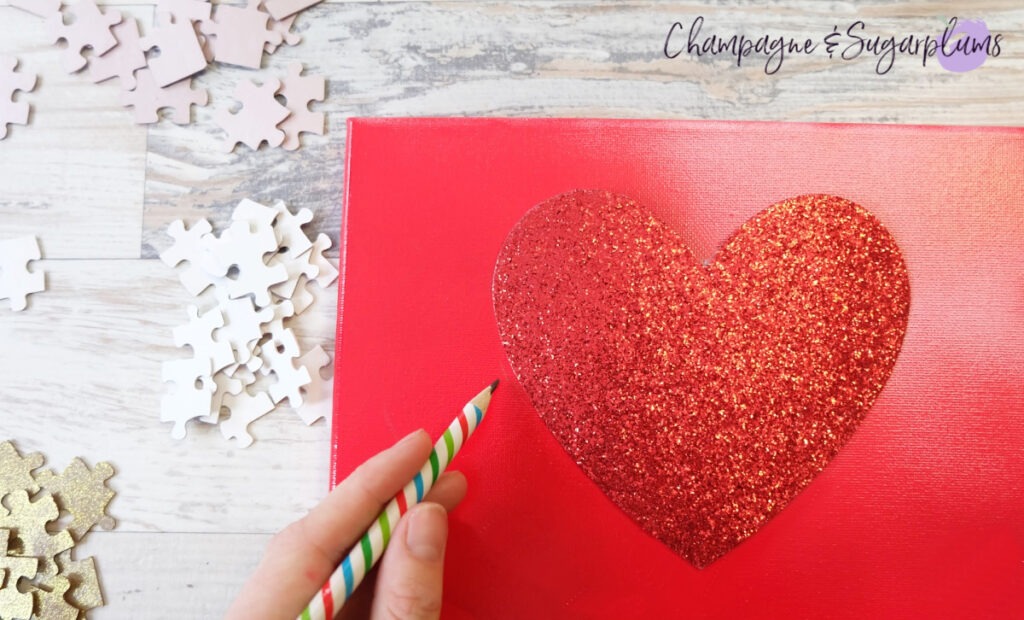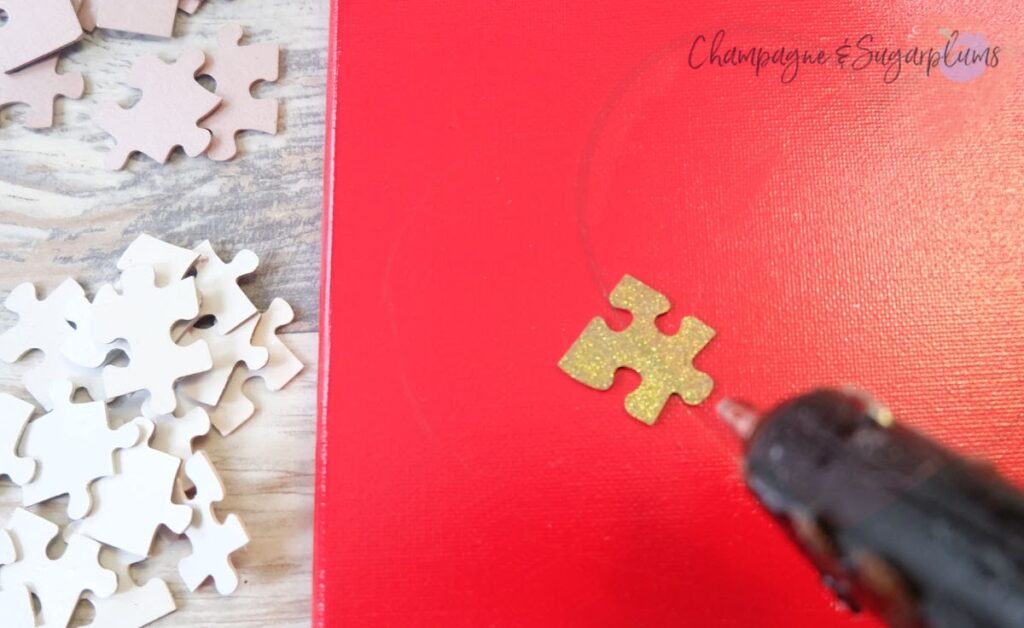 Once the canvas is dry, use a stencil or pre-cut heart to lightly trace a heart shape onto the canvas. Then you can add the puzzle pieces to the canvas. Finally, use the hot glue gun to secure them in place (if working with young children you can use an all purpose glue). Lastly, try not to have any of the "edges" facing out, you want to have the classic puzzle piece shape to your design.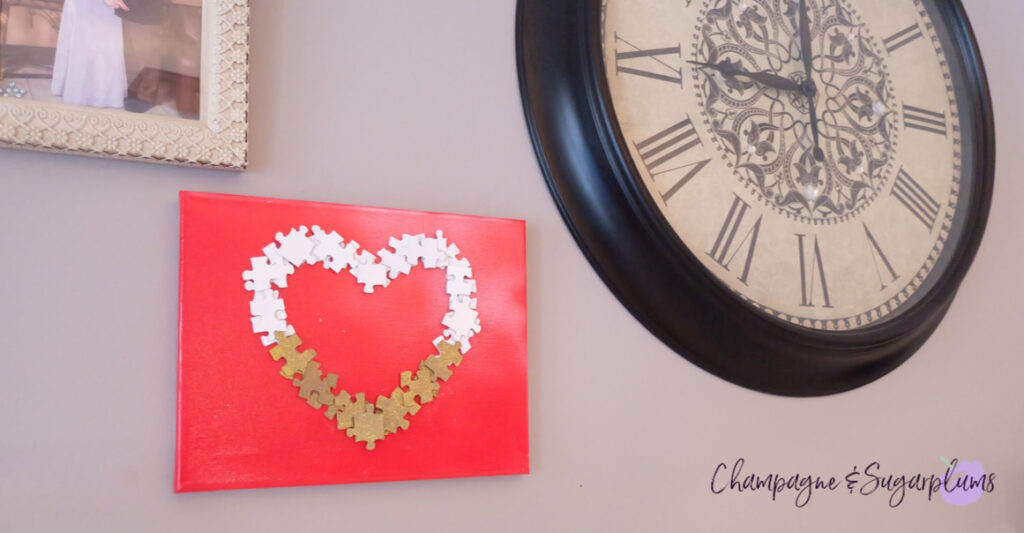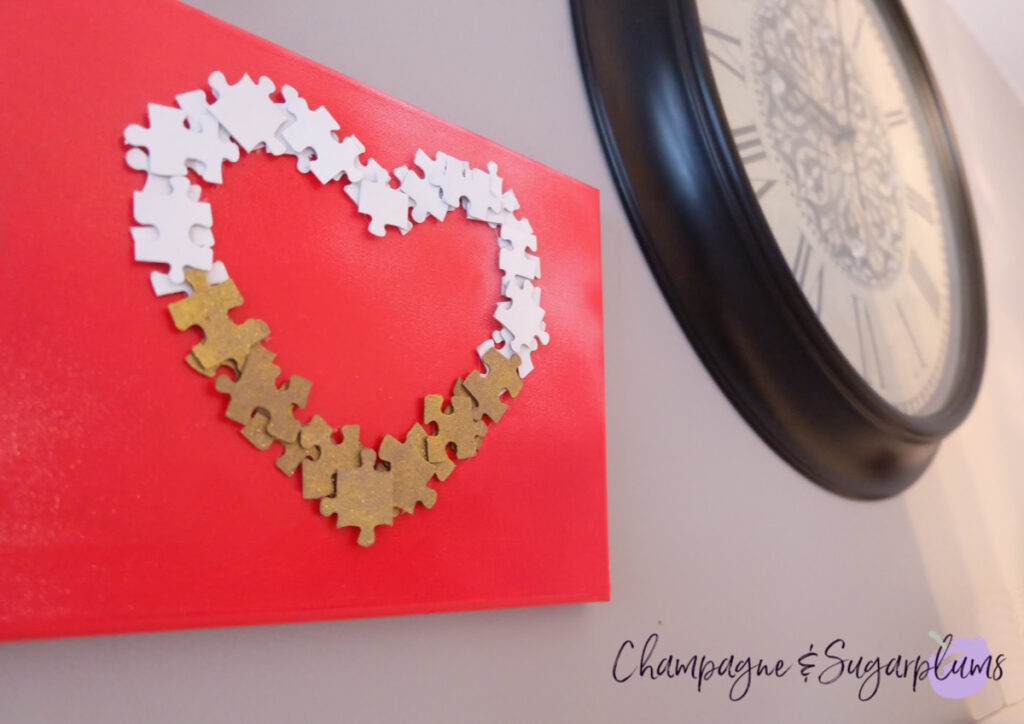 Hang this fun DIY Valentine's decoration on the wall or place it on a shelf, mantel or window sill. If you're looking for more Valentine's Day ideas, certainly check out our Brownies in a Bottle. Happy Crafting!