Easy Desk Top Organizer [Dollar Store Crafts]
It's that time of year again! Back to school is fast approaching. This week we want to bring you an easy, inexpensive idea that is perfect for for teachers and parents as the kids head back to school! This Easy Desk Top Organizer [Dollar Store Crafts] is the perfect way to glam up your desk and organize your small items.
This blog post may contain affiliate links. What does that mean? We may get a small commission if you make a purchase using our links, which helps us to keep posting new holiday content every week.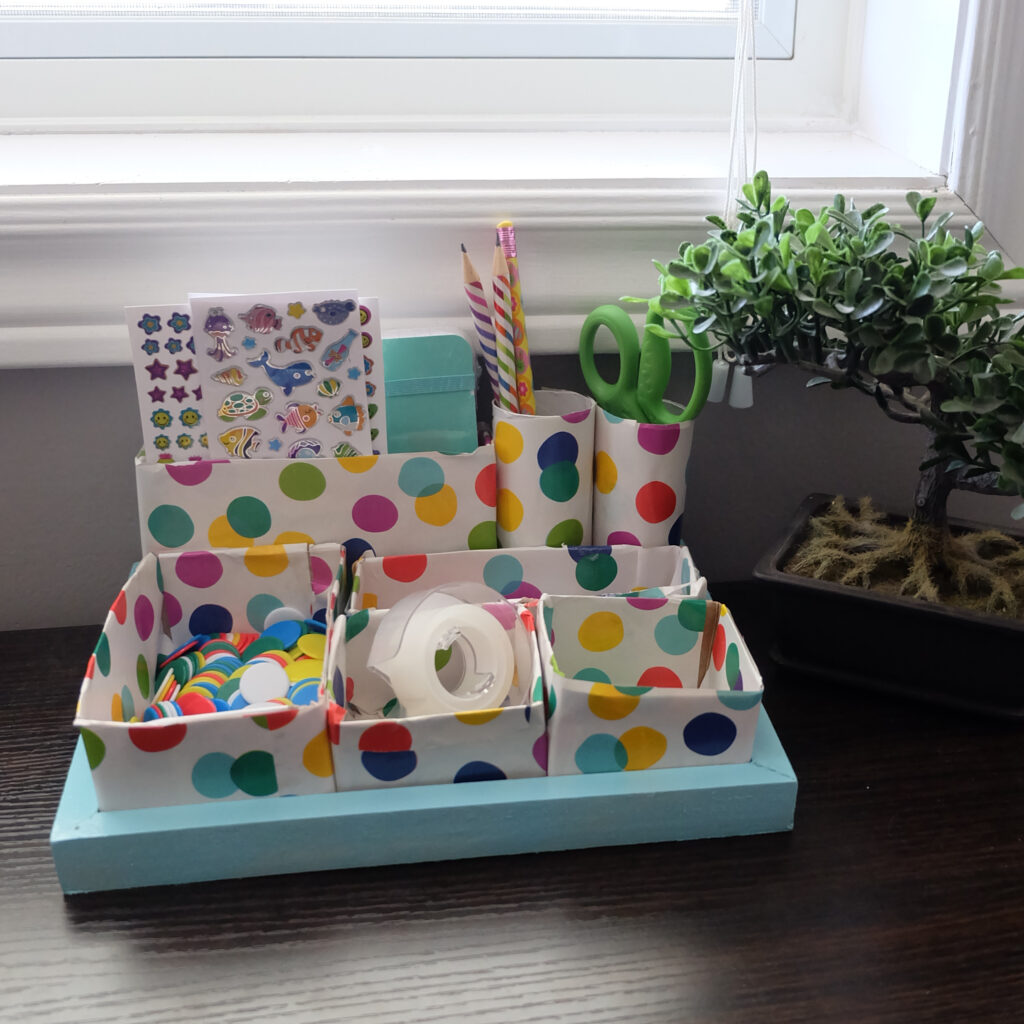 Customize this desk top organizer with your colour choices and preferences and because this craft is made out of recycled boxes and materials easily found in the local dollar store, you could make more than one.
If you're a teacher looking to personalize your desk or organize your pencils, paperclips and stickers, this craft is for you. Also, for parents, kids can easily help with this craft making it a great teacher's gift idea! Let's get started!
What do I need to make an Easy Desk Top Organizer?
Wooden tray
Wrapping paper
Variety of cardboard boxes and paper rolls
Spray glue
Spray paint (or acrylic)
Scissors
How do I make an Easy Teacher's Desk Top Organizer?
Paint the wooden tray.
Arrange the boxes in the tray to give you an idea of where they will be.
Adhere wrapping paper to the cardboard boxes and rolls using the spray on glue.
Place in the wooden tray!
How to – Photo Tutorial
Before covering the boxes and painting the tray, do a mock up of how you want them to look and fit. Remember to have taller boxes near the back so you can see smaller items in the front!
Paint the wooden tray, this will work as the base of the organizer. We used spray paint, but acrylic paint works well too. Especially if you have little ones helping out. Set the base aside to dry.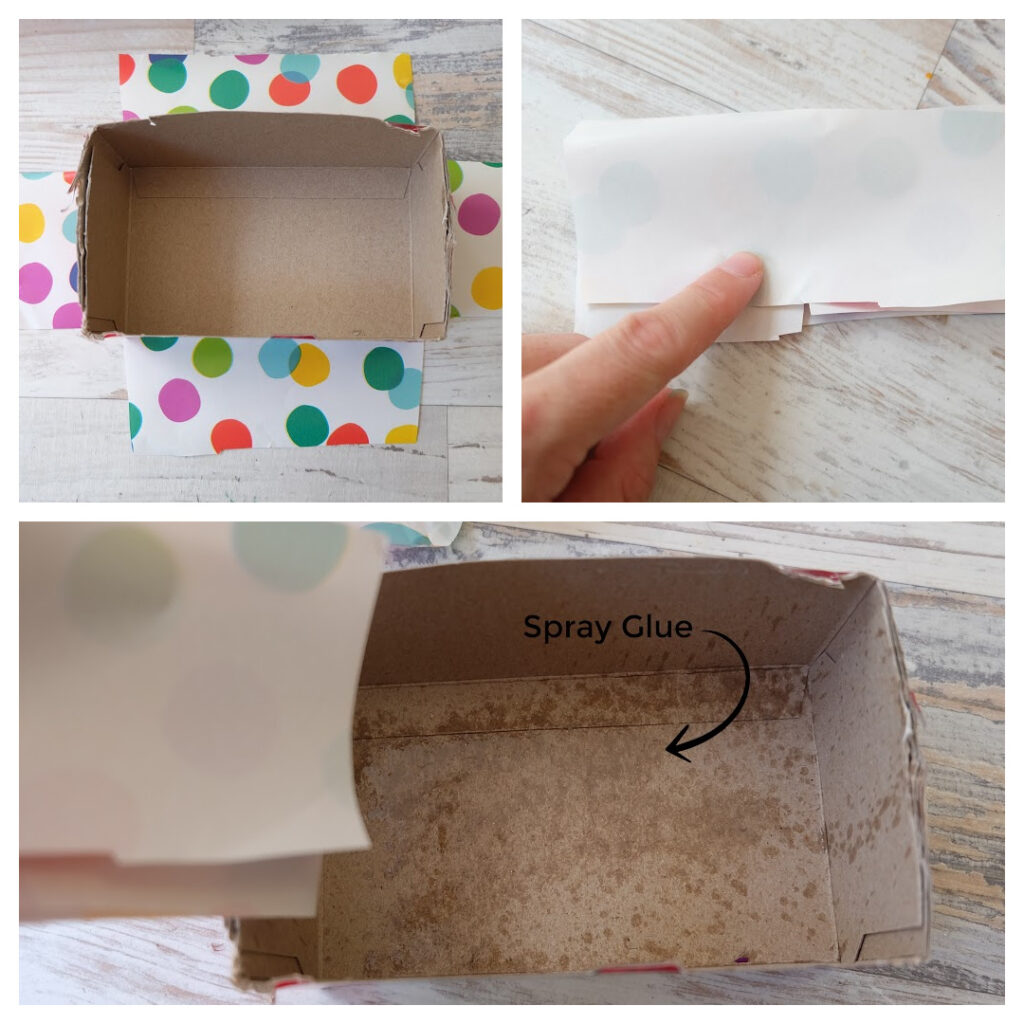 While the base is drying, prepare the cardboard boxes and rolls. Measure and cut the wrapping paper to size. Then, spray the cardboard box with glue spray. Adhere the paper to the boxes, inside and out. As well as the outside of the rolls.
Once the tray has dried completely and the boxes are covered you can arrange them in the tray.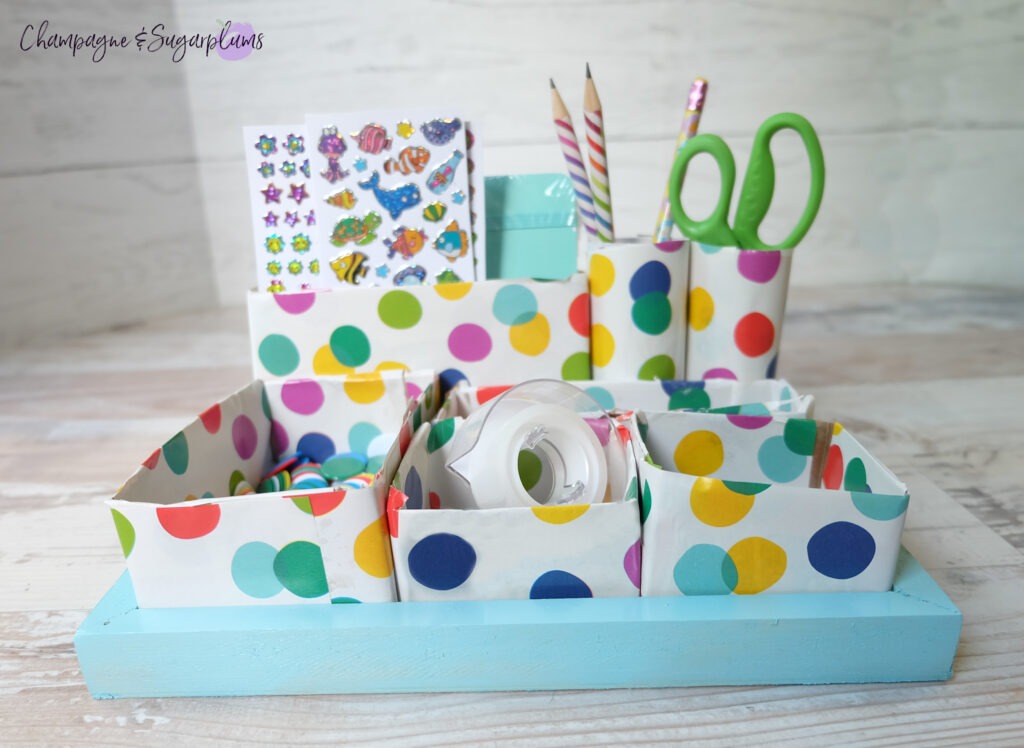 Ta-Da! Designer Dollar Store Desk Organizer!!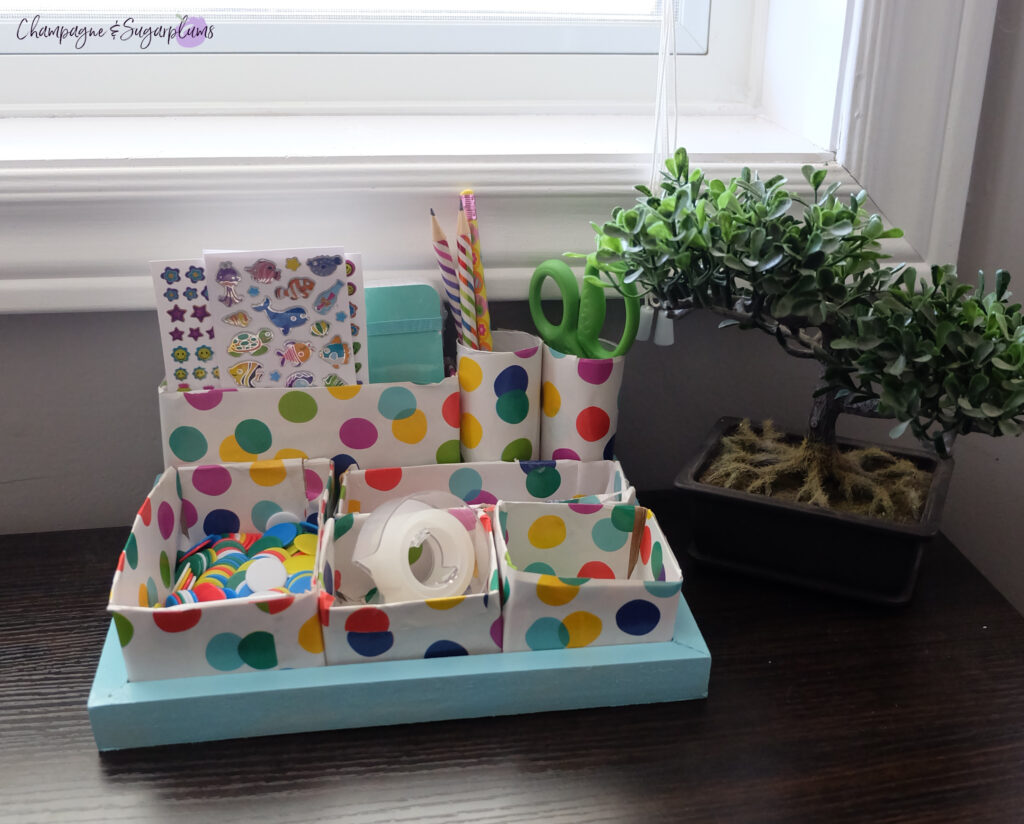 We hope you loved this Easy Desk Top Organizer [Dollar Store Crafts]. If you're looking for more back to school, teacher ideas, check out our amazing Teacher's Pet – this is one for our valued teacher's to enjoy – no students aloud!!